How does HARI update the Risk Register?
In Mosaic completing the HARI updates the Risk Register, but how?
---
When a User in Mosaic completes a HARI the output is a "RAG matrix" style colour code, which in turn updates the Risk Register automatically with the Residual Risks and Design Change suggestions. The Risk Register always uses a "worst case scenario" to apply a colour to a risk, so a risk marked as Residual, Not Reduced will always be Red/Dark Red even if other users have eliminated it. In this instance, the design team should work to reach a consensus.
Eliminated Risks - Green
Any risk marked as Eliminated will appear in the HARI as "Green" Eliminated risks, and they will not appear on the Risk Register. All risks of any status will still appear in the breakdown of the HARI in the Generated Report.
Transferred Risks - Amber
Any risks "Transferred" during the HARI will appear as "Amber/Yellow" Transferred risks on the Risk Register. This can include elements where the user has suggested a Design Change, or if they have stated they are not qualified to respond, or just "I'm not sure". These risks can be hidden on the Risk Register by the Principal Designer who has additional control over what appears on the Risk Register.
Live Risks - Red
Live risks are identified as being present by a user during the HARI, but no action has been taken to mitigate the risk or suggest safe working practices to reduce the risk.
Residual Risk, Reduced - Grey/Red
Residual Risks which have been reduced by the provision of additional information or safe working practices are denoted by a "Red & Grey" colour on the HARI and the Risk Register. Particular attention should be paid to the narrative entries which will include vital information for reducing this risk.
Residual Risk, not Reduced - Red/Dark Red
Residual risks which cannot be reduced by the provision of more information or safe working practices will be marked as "Red & Dark Red" on the HARI and Risk Register. These risks should be highlighted to everyone and work undertaken to ensure these elements are given special attention in all safety briefings.
"I Don't know" - Gray/Yellow
When a user says "I don't know" to an element's questions, it will be marked with a Grey/Yellow tile colour, and the status will be considered less "at Risk" than an element which is eliminated by other users.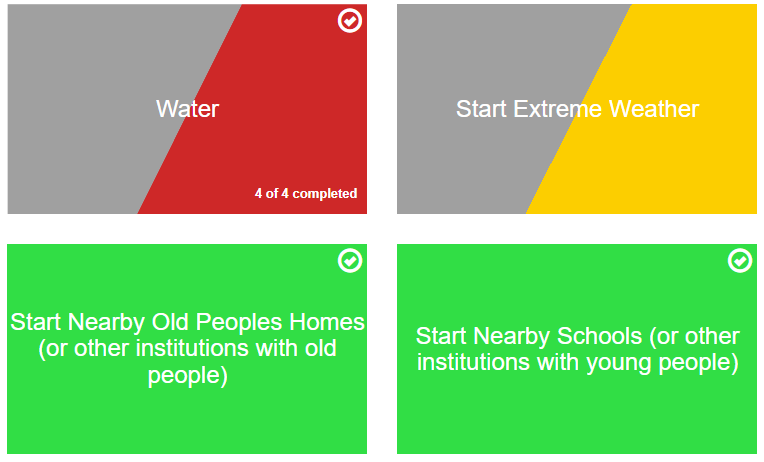 Not Complete - Light Grey
HARI elements not yet completed are Light Grey, and should be reviewed as soon as possible.
Categories: